The results are in! Each of us at the Solomon Property Group weighed in on our favorite local spots to order takeout & delivery. Here are our top 10 favorite restaurants in LA for socially distant meals at home:
First up is Great White Cafe in Venice - A great coastal spot for smoothies, fresh salads, sandwiches, and burgers made with seasonal, organic, and locally grown produce. Our team favorite on their menu is the
Breakfast Burrito
with scrambled eggs, Oaxaca cheese, crispy bacon, chipotle aioli, tater tots, and fresh salsa.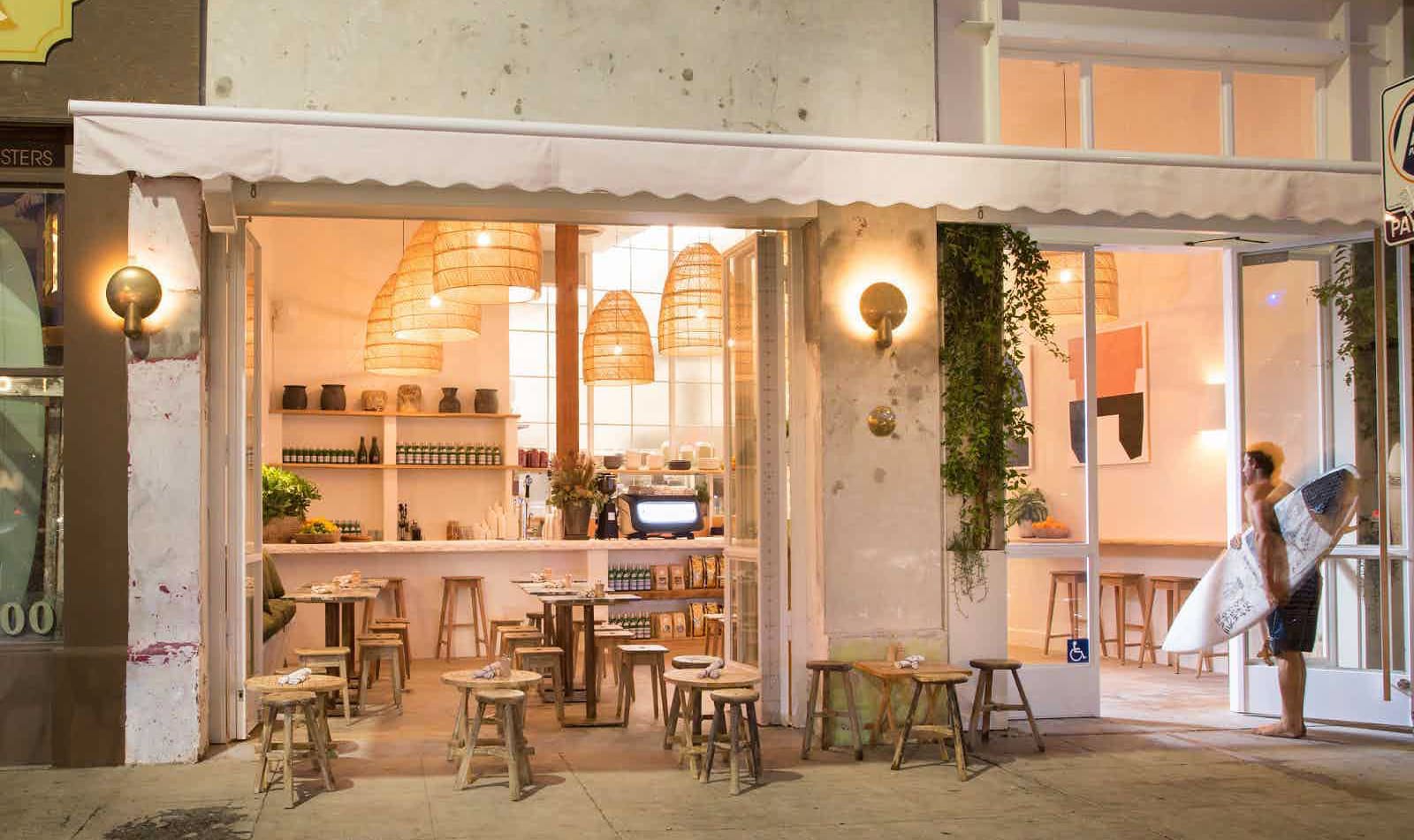 Courtesy of Zagat
2. UOVO | Santa Monica & Mid-Wilshire
If you can't get local, get the real thing. UOVO serves fresh pasta handmade daily by their team in Bologna, and you can taste the difference. Touted as "the one place outside of Italy that serves fresh pasta made in Italy", each batch of noodles is made with a specific type of egg that is specially produced for pasta and can only be found in Italy. It's clear why this spot made our list.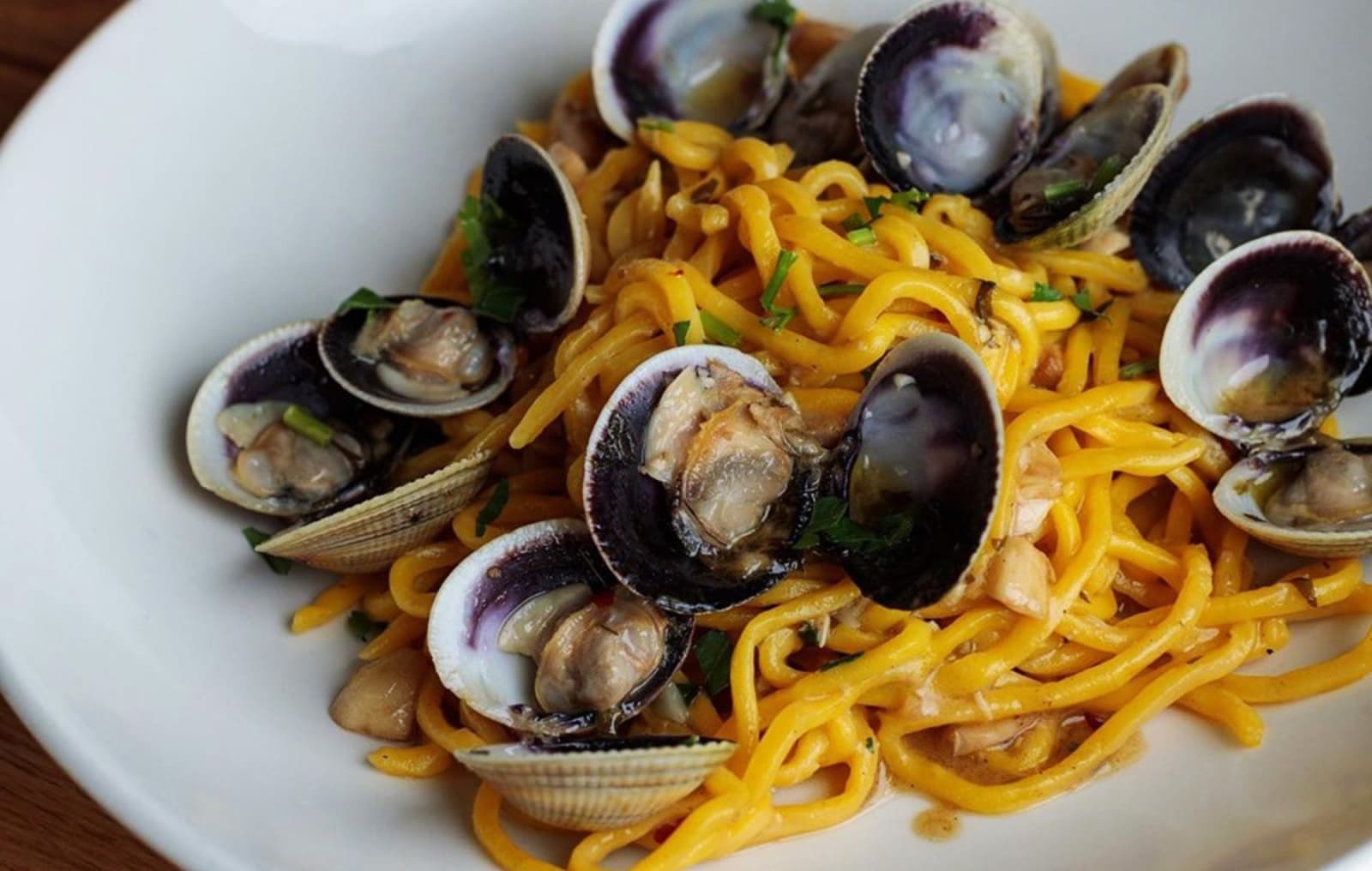 Courtesy of Discover Los Angeles
Moving from Italy all the way Down Under to the fantastic Little Ruby's Cafe in Santa Monica. Little Ruby's offers an acclaimed varied menu that combines fresh, local ingredients with Australian culinary influences. You won't see any 'roo steaks on the menu, but you will love sinking your teeth into their famous Bronte Burger or perhaps snacking on some Vegemite Toast for brekky.
We're big on locally sourced ingredients, and Tocaya Organica delivers just that and more with their delicious
Modern Mexican
menu: Burritos, tacos, soups, plantain chips, salads, fresh guac, and a great selection for kids. But the number 1 reason they made our list -- their margaritas! Tocaya Organica smartly and conveniently bottled their amazing
organic margaritas
in a one-serving size or three for you to enjoy at home!
5. Pizzana | Brentwood & West Hollywood
Napoli style handcrafted artesinal pizza that delivers the nostalgic dopamine rush from the hot first bite to the last edge of crust -- Hell yeah, it's on our list! Chef Daniele Utiti's signature "slow dough" is prepared with a blend of imported Italian flours (we apparently love direct-from-Italy meals!) and allowed to ferment for 48-hours to produce a light crust that's still sturdy enough to pick up with one hand. They even offer a "Heat and Slice" delivery option so you can pop the pizza right in your oven to warm it up to that ulitimate enjoyment temperature.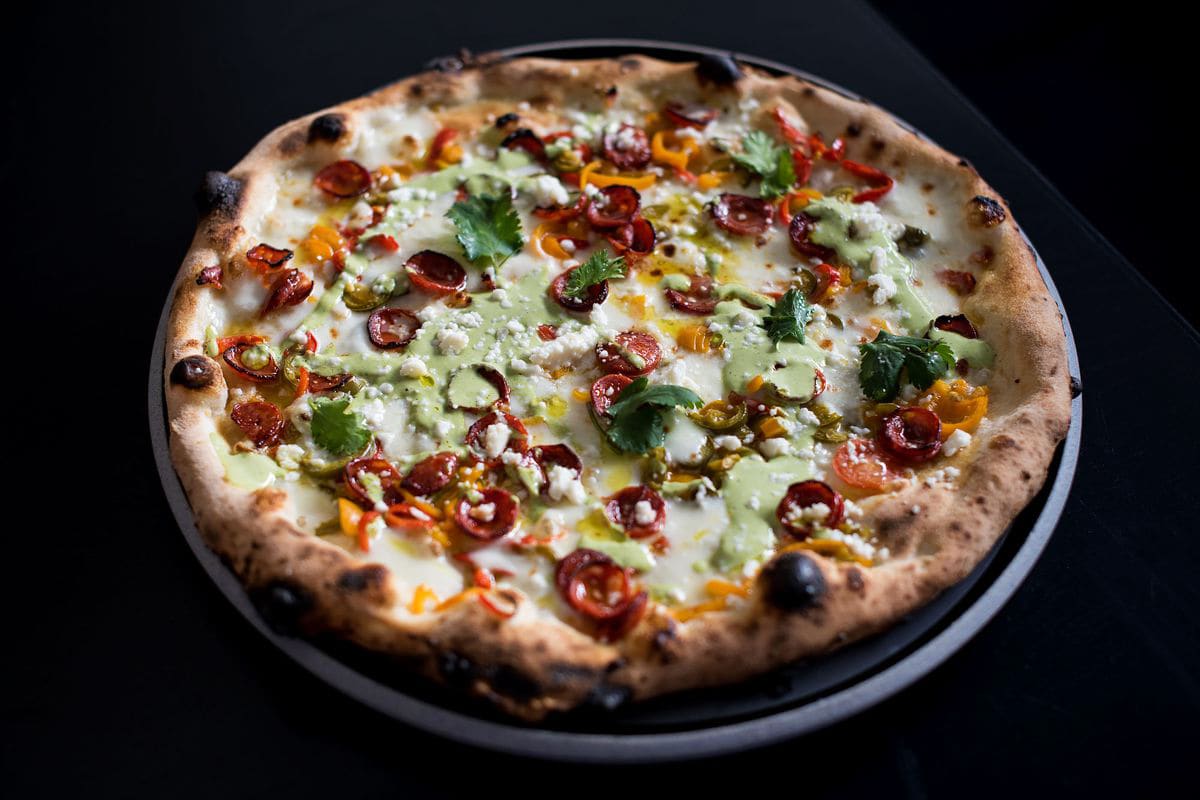 Courtesy of Eater LA
6. Bossa Nova | West LA, West Hollywood, Downtown LA, Hollywood, South Bay
Serving up Brazilian cuisine in LA since 1993, Bossa Nova has become one of LA's most awarded establishments, and it's easy to see (and taste) why. Passionate and highly trained chefs carefully select each ingredient for each dish making every meal an experience you won't forget. There's not a thing on the menu that should be skipped, but our consistent favorites include the Chicken Madeira, Diego's Seabass & Risotto, Goat Cheese Pizza, Caprese salad, and the Coxinha Chicken. And since you'll be dining at home, don't forget to include a fresh Caipirinha cocktail with your order. It's deliciosa!
Continuing our global culinary tour of LA's finest takeout is Cholada Thai Beach Cuisine located in Malibu. This local treasure is family owned and started with an
inspiring immigrant success story
. Now, because it's in Malibu, you're not going to want to skip the seafood. We recommend the fried calamari, shrimp in a blanket. squid salad, and Pad Ped crispy catfish. Land lover? Get the Kanom Jeep, Thai fried rice, Drunken noodle, or Fancy Duck Curry and wash it all down with a Thai iced tea.
8. KazuNori | Santa Monica, Westwood, Mid-Wilshire, Downtown LA
One-third of the Sushi Nozawa Group (SUGARFISH, KazuNori, Nozawa Bar), Kazu Nori is one of our favorite spots to get the best sushi in Los Angeles. Famed Sushi chef Kazunori Nozawa's 40-year mission has been to bring the ultimate traditional Japanese sushi experience to LA and he never disappoints. Kazu Nori is the place for amazing handrolls -- they have an awesome new
Home Hand Roll Kit!
Each kit comes with everything needed to make 20 hand rolls, including four different fillings (toro, crab, yellowtail, and salmon), Nozawa's signature warm rice, and seaweed, plus an assortment of condiments.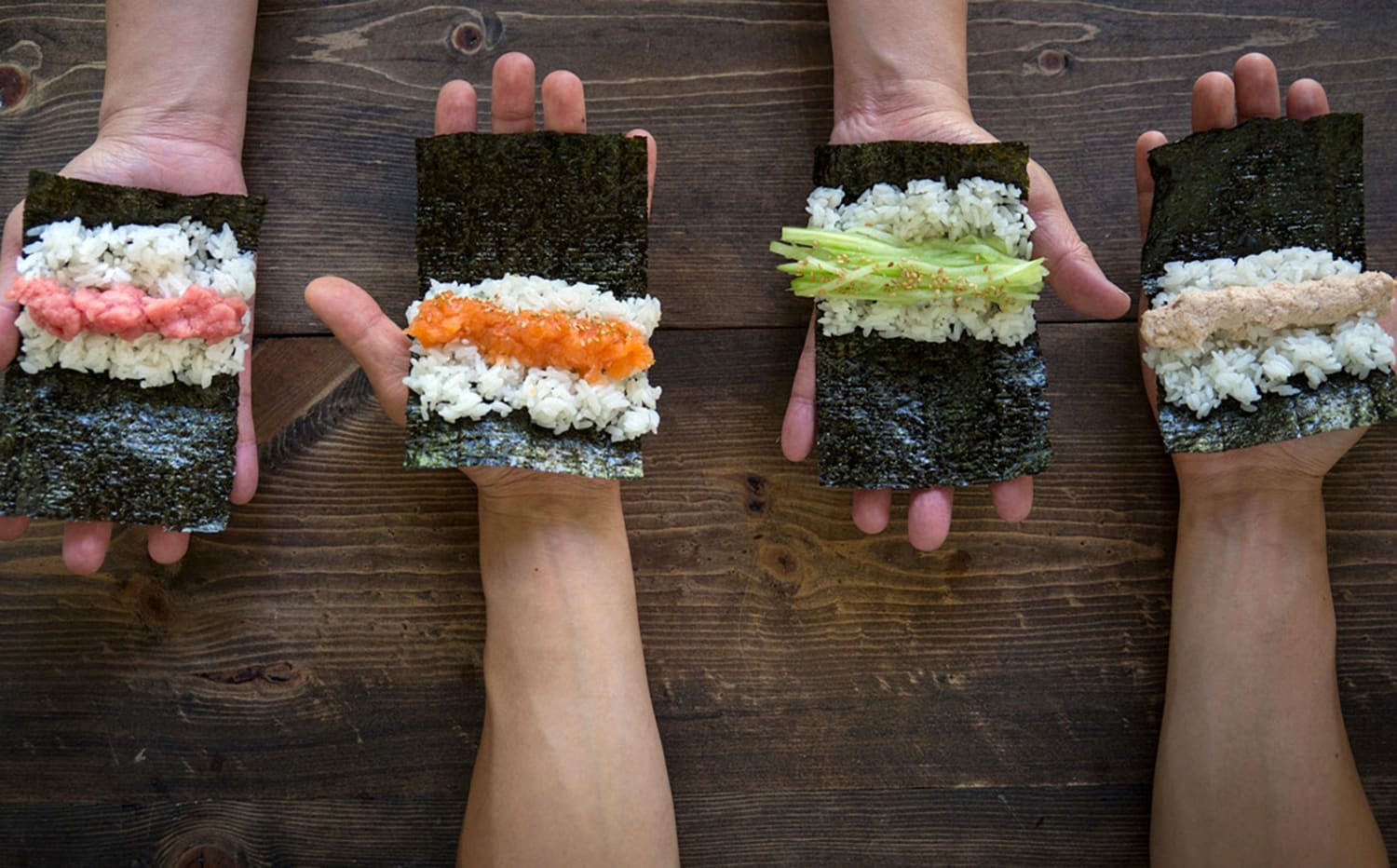 Courtesy of KazuNori
9. Tatsu Ramen | West LA, West Hollywood
Continuing with Japanese fare, let's talk soup... particularly ramen. Whether we're hungover or just need a warm bowl of noodles accompanied by fresh produce, hot broth, an egg, and more, Tatsu Ramen is our go-to. They make their broth fresh daily and offer a variety of customizations, so you can get it just the way you like it -- and they also have a loyalty program for frequent fliers. Slurp away!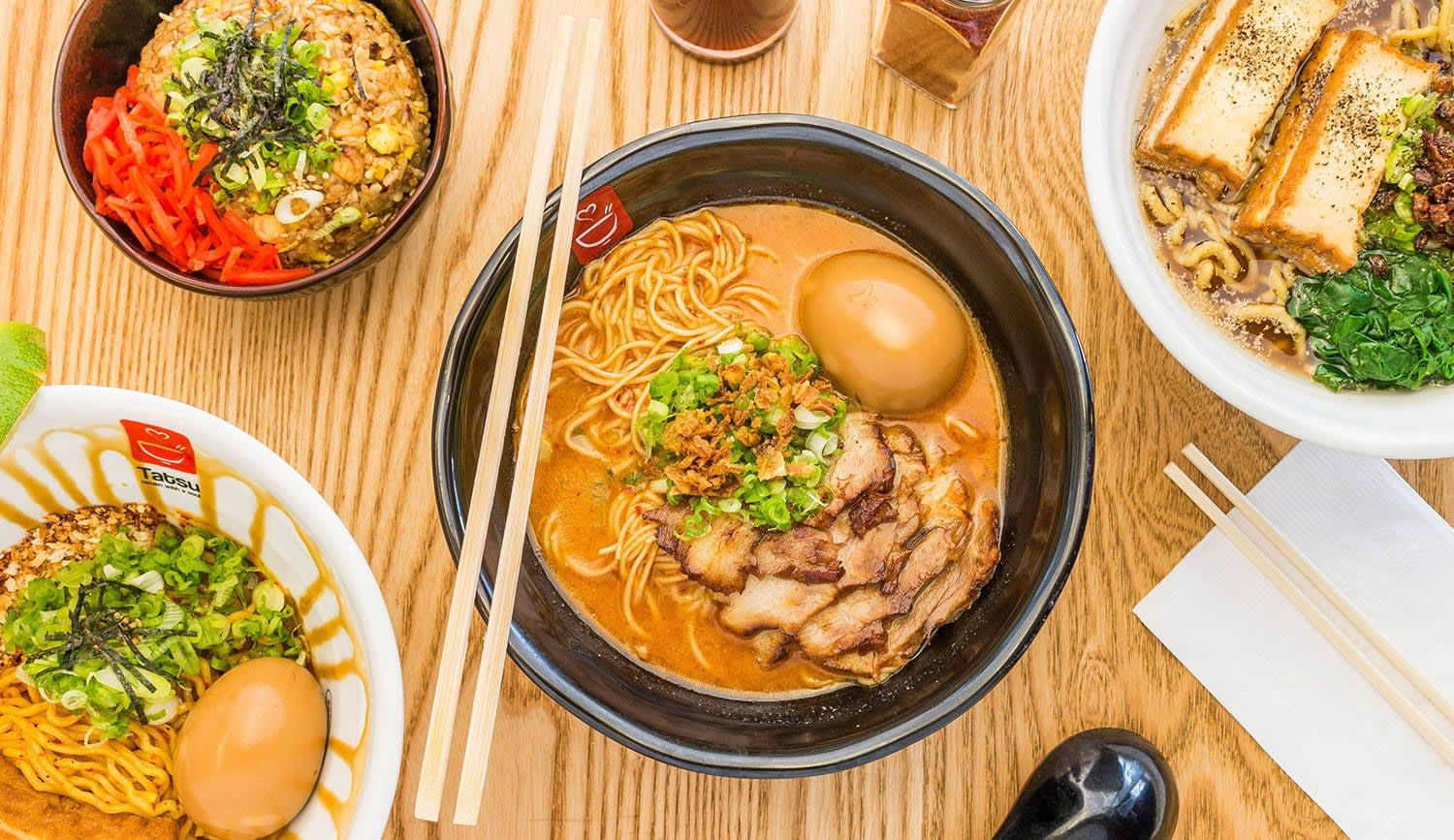 Courtesy of Uber Eats
10.

Fat Sal's Deli

| Westwood, Hollywood, Encino
And last on our list, but certainly not least, is Fat Sal's - our biggest guilty pleasure as far as food delivery goes. There's really not much more we can say. You must try their unbelievable sandwiches. How about some Nashville hot chicken? Or a Bahn Mi? Or perhaps you're in the mood for thinly sliced ribeye with chicken fingers (yeah that's called the
Fat Jerry
). Put on some pants with an elastic waistband and indulge. You're welcome.
Do you have a favorite place to order delivery/takeout from that's not on our list? Let us know!