For COVID-19 safety, here's what you need to know about trick-or-treating this year: The L.A. County Department of Public Health has posted some safety guidelines. After banning it in 2020, trick-or-treating has been given a green light for 2021, though Public Health recommends avoiding indoor spaces, keeping your group small and maintaining distance from other ones, steering clear of crowded streets, sanitizing your hands and wearing a mask (not a costume mask, but a real one) in busy environments. To be clear, these are all recommendations and not requirements. Also, keep in mind that while we historically stand by all of the picks below, individual homeowners may or may not choose to partake in trick-or-treating festivities this year.
Angelino Heights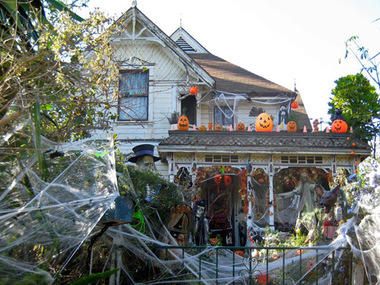 Vintage craftsman bungalows, towering Victorians and dark mysterious mansions are the ideal backdrop to a spooky Halloween night in Angelino Heights. Streets bend and fold around the leafy hillsides of one of L.A.'s oldest neighborhoods, making for a great destination for the older and ambitious trick or treater who will get a side of L.A. history with their stash of Nerds and Kit Kats. Residents of the popular Carroll Avenue—sometimes known as the Haunted District—have Halloween fun and don't skimp on the candy either.

Where: Carroll Avenue and Douglas Street
Brentwood
The Westside little gem of Brentwood Glen is a slice of Americana in the bustle of city living. The walkable nabe, south of Sunset Boulevard and west of the 405, is an ideal spot for little trick-or-treaters who are new to the tradition. Residents are generous with their candy as well as their Halloween spirit, evident in their decorated homes and glowing carved pumpkins. Bonus: If you're looking to grab dinner and maybe score more candy, you can head to the festively decked-out Brentwood Country Mart.
Where: Brentwood Glen, between Church and Beloit streets
Venice Beach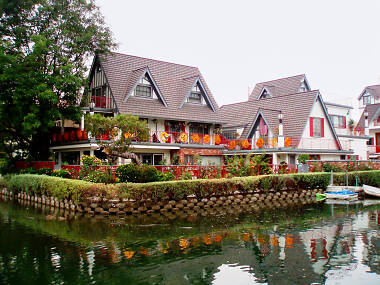 Venice Beach's canal community is known for going all out on Halloween. Grab your ghouls and come early to stroll around the bridges, take in the spooky decorations and twinkly lights and, most importantly, meet costume-clad homeowners who happily hand out treats. Prepare for parking difficulties but do plan on spending a few hours to enjoy the scenery and take in the decorations.
Where: Dell and Venice Boulevard
Sierra Madre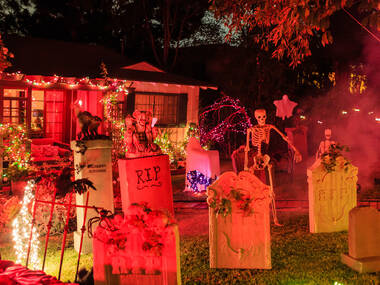 For years, Alegria Street in charming Sierra Madre, a foothill community east of Pasadena, has become known for its Halloween-decorated craftsman homes and bungalows. Hundreds of families head to this community nestled in the San Gabriel Mountains to see the ghoulish decorations and the dozens of professionally carved pumpkins made by locals and, of course, scout out candy. It's always about the candy.
Where: Alegria Street, between Baldwin and Mountain Trail
Toluca Lake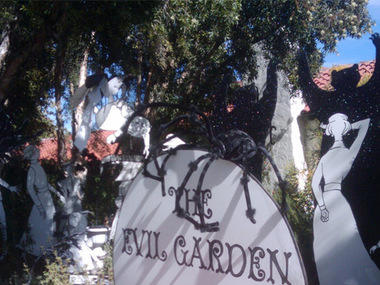 Toluca Lake is known for its TV studios and movie executives that call this Valley jewel home. Come Halloween, it's also a highly sought-after neighborhood known as "the flats" by locals who head from their hillside homes to trick or treat amongst the sprawling ranch houses. Bob Hope's former house on Ledge Avenue and Moorpark Street is a great place to start your trek. Although he and Dolores Hope are no longer passing out full-size candy bars and kazoos, neighbors continue the tradition of a lively Halloween spirit.
Where: Ledge Ave and Moorpark St; Toluca Estates Drives and Valley Spring Lane
Beverly Hills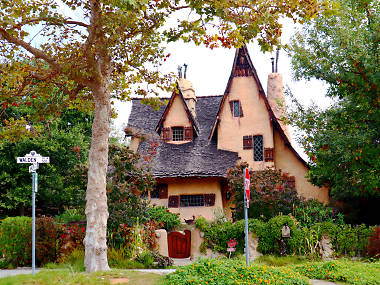 Every year, trick-or-treaters from all over L.A. hit the streets of 90210 in search of the Halloween holy grail: full-size candy bars and envelopes of cash, natch. And while that's mostly the stuff of legends, people then discover trick-or-treating hot spot Walden Drive. Get there early (before local teens show up with shaving cream in hand for a little grown-up fun) and enjoy the manicured lawns and epic homes decorated to the nines in Halloween garb and ghoulish mischief. Meet up at the beloved "Beverly Hills Witches House" on Walden Drive, which looks like a haunted fairytale cottage with gnarled trees and a creaky fence.

Where: Walden Drive and Carmelita Avenue
Santa Monica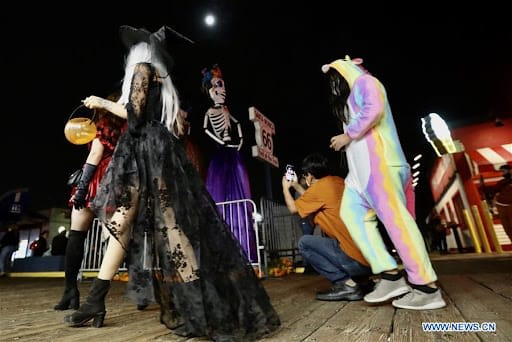 2021 info TBA.
With 150 boutiques and bistros, the ever-stylish and always chic Montana Avenue is a great place for families to celebrate Halloween. The annual Halloween Hop, from 3 to 6pm, is a long-standing community tradition that continues to be a popular one for families who seek a fun and safe evening of trick or treating. Kiddos and their parents can meander down the 10-block shopping street and enjoy a sweet candy escape, then head to the surrounding residential neighborhood to end the night with more treats than tricks.

Where: Montana Avenue between 6th and 17th Streets