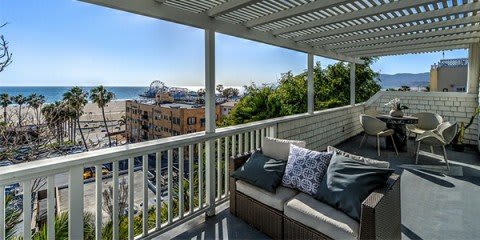 Anyone who strolls by
26 Arcadia Terrace
can see that this home flaunts sophisticated charm and a prime location mere steps from Santa Monica Beach. Yet what isn't so obvious to the naked eye are the many qualities that make this property a real estate catch, such as walkability, which is still one of the most desirable commodities on the market.
Speaking to this effect are the owners themselves, who share that you can carry your surfboard right down to the swell, walk to Starbucks around the corner, have a drink at Casa del Mar listening to their nightly jazz, or entertain your clients at one of the world-class restaurants nearby. They also add that, "Starting in 2016, a five-minute walk is met with hopping on a train that takes you to Downtown Los Angeles where you can attend an LA Philharmonics concert, an opera performance or perhaps the Hollywood Bowl without dealing with LA freeway traffic."
Here are 5 things you should (also) know about the home.
Album Cover Credentials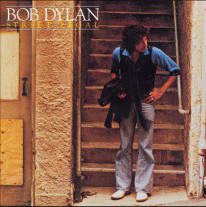 The back alley steps leading to 26 Arcadia Terrace served as the cover art to Bob Dylan's 1978 "Street Legal" album. This means that every time you drive in or drive out of the 3-car garage, you'll be using those same steps that Dylan did to walk up to your home.
Private Walk Street
Indulge in the comfort of being located on the only private walk street in Santa Monica. Situated between Appian Way and Ocean Ave, the home is mere steps from the beach, offering you a sense of serenity within the eclectic and spirited community that surrounds you.
Incredible Viewpoints
Rare is it to find a property this close to the beach that affords far-reaching views from the Malibu coast all the way to Catalina Island. A roomy terrace extending the entire length of the top level living room shows off the infamous Santa Monica pier and ferris wheel, popular bike trail and ocean waves steadily rolling in. No need to check the surf report when you can simply gaze out your window!
Steeped In History
This home represents a rich slice of Santa Monica history. Why, just beyond your 4bed/5bath abode lies the original Arcadia Terrace steps, which were part of the former Hotel Arcadia in the 1880's, and Muscle Beach, the birthplace of fitness. "The character of this home celebrates a storied past while still accommodating the needs and luxuries of modern living", adds one of the property's listing agents,
Michael Grady.
Casual, Beachy Vibe
Cottage-style architectural elements, light-filled spaces, and a gentle ocean breeze drifting through the interior all contribute to this home's laid-back, comfortable atmosphere. From the top level living room to the private covered patio off the second floor master, gathering spaces for recounting the day and night's adventures are inspiring and bountiful.
See additional photos of
26 Arcadia Terrace
. 26 Arcadia Terrace is represented by
David Solomon
,
Anna Solomon
,
Michael Grady
, and
Alex Brunkhorst
.