Best Rooftop Bars in Los Angeles. Time for some al fresco cocktails!
1. L.P. Rooftop Bar | West Hollywood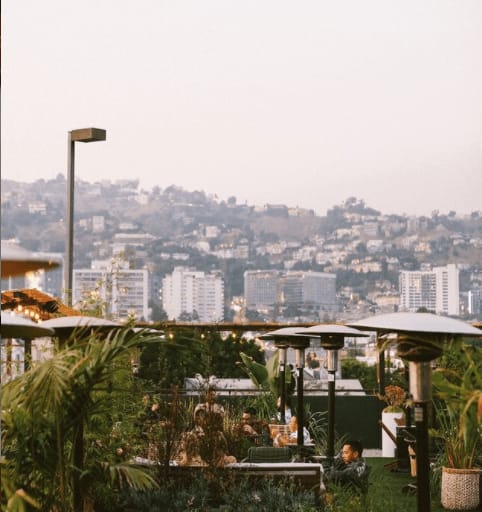 Open for walk-ins only. E.P., the restaurant downstairs, accepts reservations.
There's a party happening at the intersection of La Cienega and Melrose at L.P. Rooftop. The view is so stellar, the drinks are fun, and the swanky, photo-ready, fun-loving clientele is a good time. Share spiked bubble tea with new friends as the sun sets on West Hollywood. Hit this roof at just the right time during the summer and you can even catch an outdoor screening—and yes, there are snacks.
2. Broken Shaker | Downtown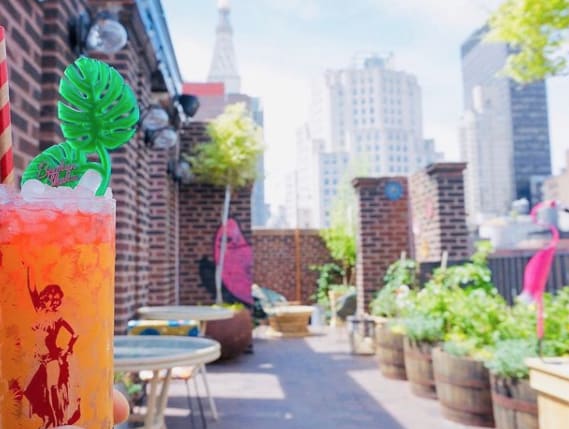 The Freehand Hotel's trendiest clientele are like moths to a flame at the quirky, colorful and palm-laden rooftop bar above DTLA. Cool off with eclectic cocktails—with some equally eclectic and colorful garnishes—served from the thatched-roof bar as you snack on street-food-inspired dishes. (Don't skip that guac with peanut salsa.) It's a perfect perch to take in views of Downtown, especially around sunset. Overwhelmed by that brief but fun menu? We're crazy for the Carrot Colada, made with gin, Montenegro, carrot-and-coconut orgeat and a pink peppercorn cordial.
3. Élephante | Santa Monica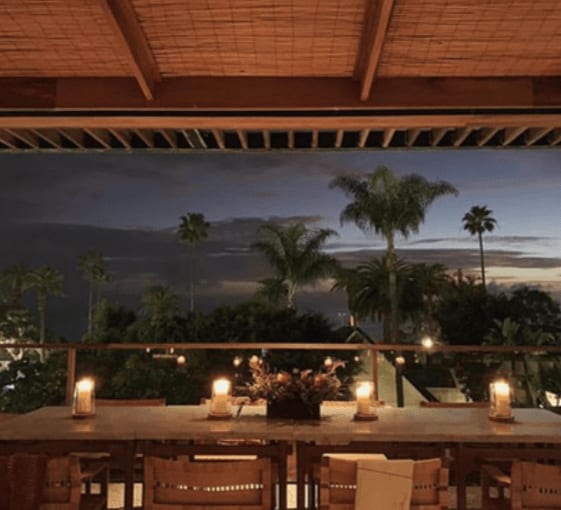 There are rooftops, and then there are scenes. Santa Monica's breezy, all-day sky-high restaurant and bar is a little of both at all times of the day. Sure, Elephante serves light, bright food with seasonal ingredients (and the pizza's not bad), but we're all about the cocktails and of course the view. The indoor-outdoor space feels like a dream living room, with modern, comfortable-but-chic furniture and a stunning view of the ocean off the patio, but with a space like that, it's also one of the toughest SaMo reservations to land. Best to book in advance, instead of fighting the Westside's most gorgeous clientele for a walk-in spot.
4. Moonshadows | Malibu
Forget flip-flops and sunscreen—dolphin sightings are de rigueur at this longtime PCH watering hole. This one isn't so much sky-high as it is water-on, with an outdoor lounge area lined with white sofas and curtained booths that hang right over the Pacific—you're practically within blowhole distance of the pods that swim close to shore. Catch afternoon rays at weekend brunch or laze on the sundeck at sunset or after dark, when Malibu locals turn out for margaritas and the salt air mixes with pretty young things.
5. High Rooftop Lounge |

Venice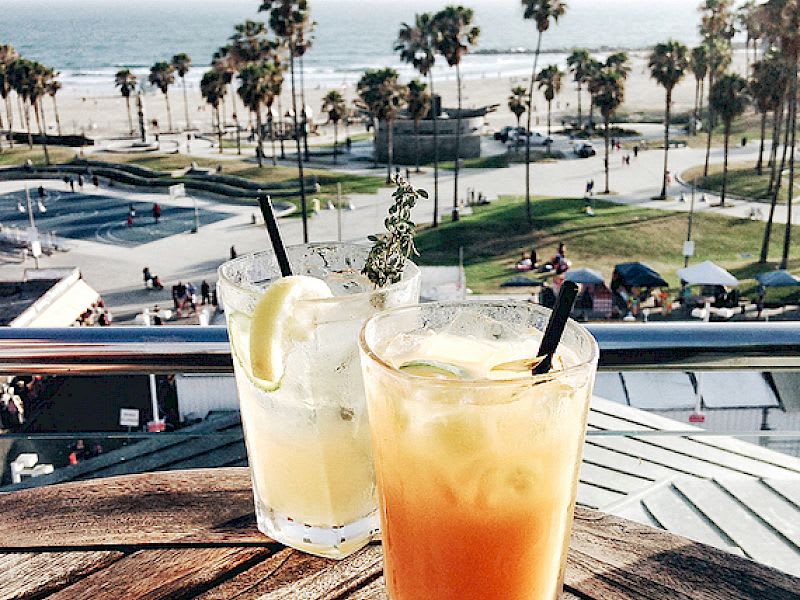 Beachside rooftops are in surprisingly short supply in L.A., making Hotel Erwin's High Rooftop Lounge an in-demand spot for sun-kissed Venice locals. Even if you're staying at the hotel, be sure to make a reservation; there's nothing like a multi-hued sunset over the Pacific with a cocktail in hand to get Angelenos buzzing. Getting chilly? Evening bar-goers can wrap themselves in one of the bar's cozy blankets, along with a spiked cocoa or hot toddy. If you don't like your drinks sweet, stick to local craft brews to pair with munchies like gourmet sliders and street tacos.