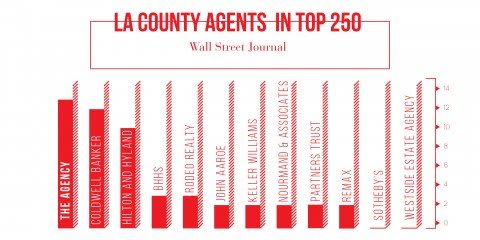 The Wall Street Journal
released their
2015 Top 1,000 Real Estate Professionals
, and The Agency is thrilled to announce that 20 of its agents ranked among the best of the best in the U.S. in several categories. Although the youngest and the smallest of the brokerages with more than one agent on the list, The Agency led all LA County brokerages with a staggering 13 agents represented on the
Journal's Top
250 Individuals by Sales Volume.
CEO and Co-Founder
Mauricio Umansky
was named the Number 3 agent in the U.S. and Number 1 in California with a total sales volume of $604,339,372, nearly double the volume that earned him the 6th spot in last year's national ranking.
"I'm extremely proud of Mauricio's individual achievement," exclaims President and Co-Founder
Billy Rose
, who ranked 18th nationwide and 10th in California, "but I'm even more excited that The Agency had more agents represented than any other brokerage in our territory; this is definitive evidence that our marketing and sales platform is the best in the industry."
"While the ranking acknowledges individual accomplishments, everything we do at The Agency is a team effort. Each of us owes our success to the collaborative spirit that has been the soul of our agency since it was founded, nearly four years ago" added
Santiago Arana
who is also among the Top 250, along with fellow Agency agents
Paul Lester
,
Aileen Comora
,
Blair Chang
,
Deedee Howard
,
Edward Fitz
,
David Parnes
,
James Harris
, Farrah Aldjufrie, Jay Harris and
Craig Knizek
. The team of
David Solomon
and
Anna Solomon
ranked among the Top Teams by Sales Volume.
"This is an incredible honor for The Agency, which leapt from having five agents in last year's ranking to 20 agents recognized this year," said Mauricio. "The Agency's unique culture of collaboration and partnership is redefining the way real estate is practiced and contributing to the great success of our agents, both individually and as a team."
The Agency's Jay Harris took the Number 1 spot in the country in the report's newest category, Individual Sales by Average Sales Price, with an average of $74,000,000. The number included Jay's sale of the former Walt Disney property, The Carolwood Estate, which was listed for $90,000,000 in Holmby Hills. Also included in the Average Sales Price ranking were the agents mentioned above and
Alejandro Aldrete
, Stephen Sigoloff,
Lynn Teschner
and
Alex Brunkhorst
.
The Wall Street Journal and REAL Trends, Inc. Top 1,000 Real Estate Professionals recognizes the top one-half of one percent of the more than 1 million REALTORS® nationwide. The report is divided into four separate categories honoring the top Top 250: Individual Sales by Sales Volume; Individual Sales by Transaction Sides; Teams by Transaction Volume; Teams by Transaction Sides. This year's ranking added two new categories also broken down to the top 250: Individual Sales by Average Sales Price; Teams by Average Sales Price.
View the complete list of 2015 Top 1,000 rankings
here
.