Hanukkah, also known as the Festival of Lights, comes early this year, starting on November 28 and running through December 6. Each year, the dates of the Jewish winter holiday vary but always begin on the 25th day of Kislev, the ninth month of the Hebrew calendar. Whether you're lighting the menorah with a partner, friends or family, celebrate the importance of family, remembrance, blessings and (of course) fried foods with these take-home Hanukkah meals and limited-edition sweets and desserts from some of the best restaurants in the city.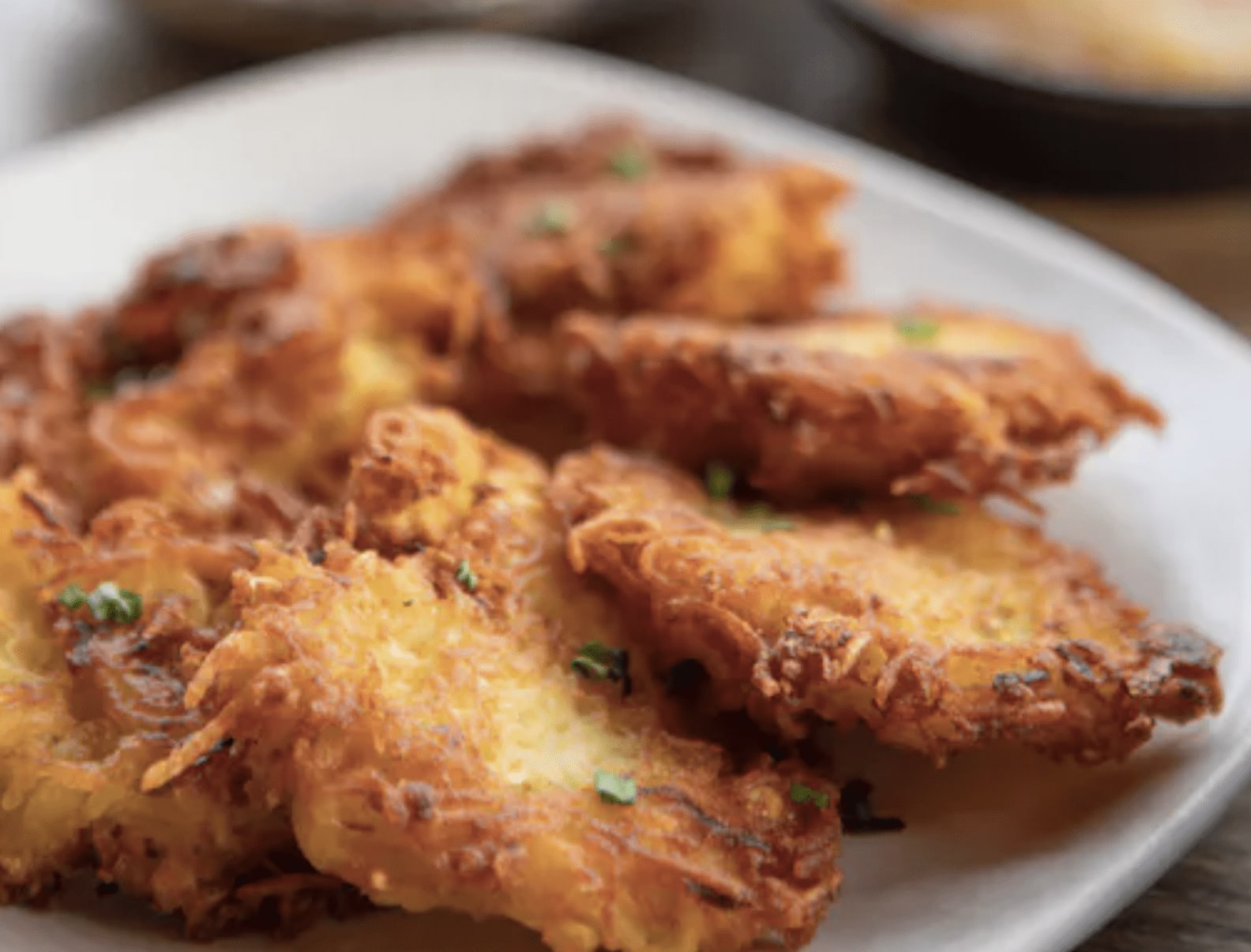 Every year, Culver City's Akasha offers a "vodka and latkes" Hanukkah feast, including $25 seasonal cocktails serving two to three guests like Light the Menorah, a lavender blue vodka lemonade made with Meyer lemon and the cranberry vodka-based Jelly Donut sweetened with apricot jam. This year, they're offering the same menu for to-go and delivery. Beyond Yukon Gold latkes, chef Akasha Richardson is also offering chopped, seasoned chicken liver by the half pint ($10), "pletzel" onion and poppy seed challah ($10) among other starters, as well as two-person servings of beef brisket ($40) and tangerine braised chicken ($36).
Note: Akasha will be closed for pickups or delivery on Monday, November 29 and Tuesday, November 30.
Price: Varies; Order with 48 hours' advance notice via Tock; pickup and delivery available November 28 and December 1–5.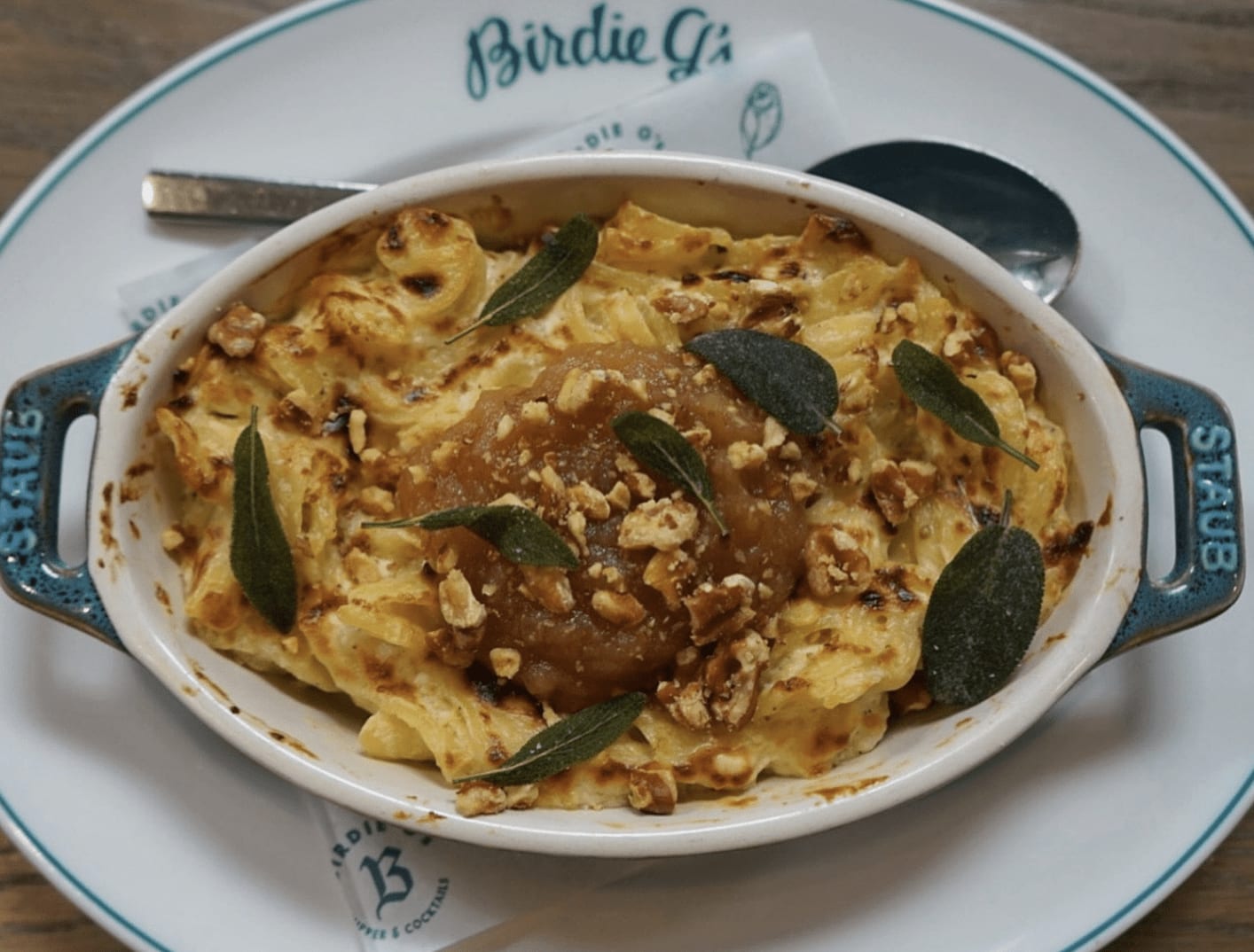 Jeremy Fox's Santa Monica restaurant offers a few Jewish classics year-round, but for Hanukkah it's offering à la carte heat-and-serve dishes to celebrate at home, including hits such as matzo ball soup with carrot miso and dill ($15 per head) and sauerkraut latkes with applesauce and crème fraîche (a dozen for $25). For an upscale take on a classic, order the sweet noodle kugel ($25) baked with ricotta, pecans, brown butter and sage.
Price: Varies; Order with 72 hours' advance notice via Tock, or by calling 310-310-3616 after 2pm; pickup and delivery available November 28–December 5.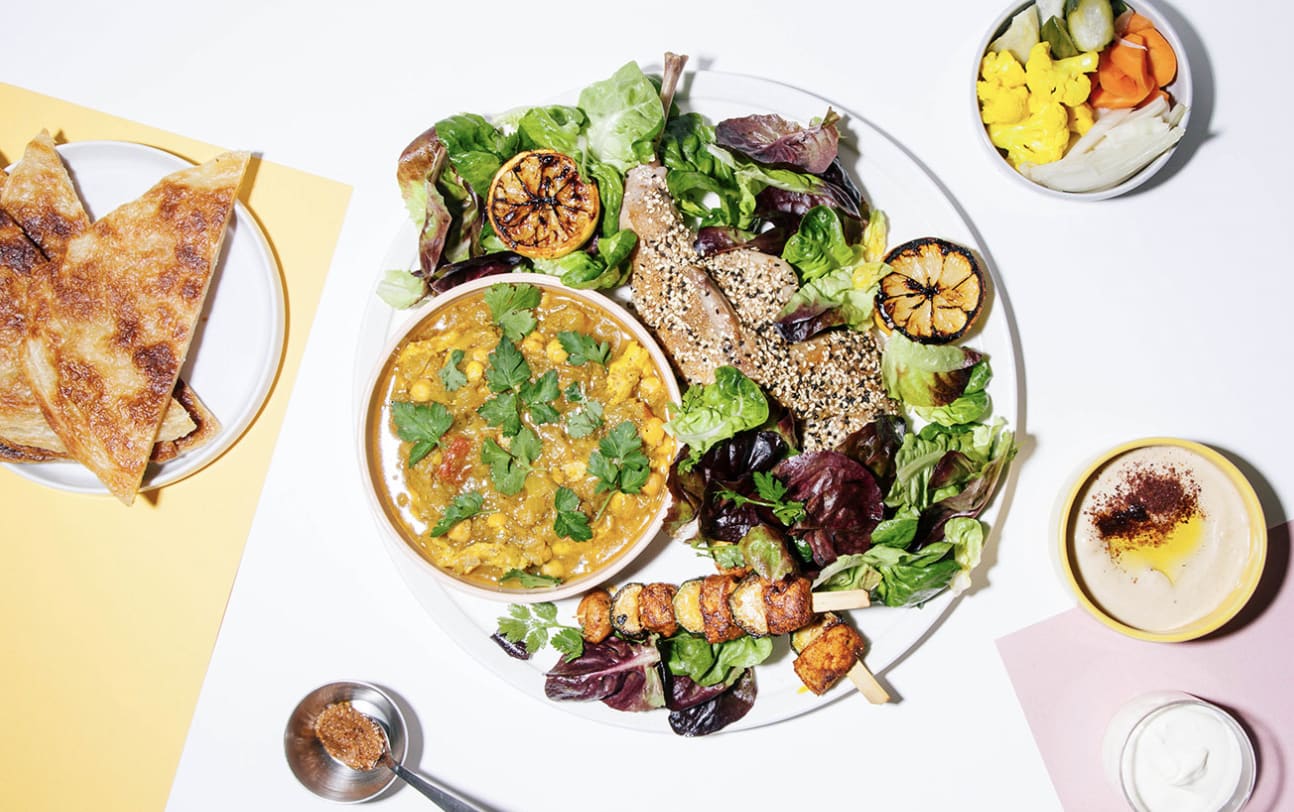 If you're hoping to celebrate Hanukkah out of the house, book a one-night-only prix fixe dinner at Kismet. On Tuesday, November 30, the critically acclaimed Mediterranean rotisserie chicken spot in Los Feliz is offering latkes with schmears, duck and horseradish with sides of Manischewitz-braised carrots, kasha mushrooms and bitter greens–plus buckwheat sufganiyot doughnuts for desserts.
Price: $85 per person, available 5–10pm. Book online via Resy or call 323-409-0404.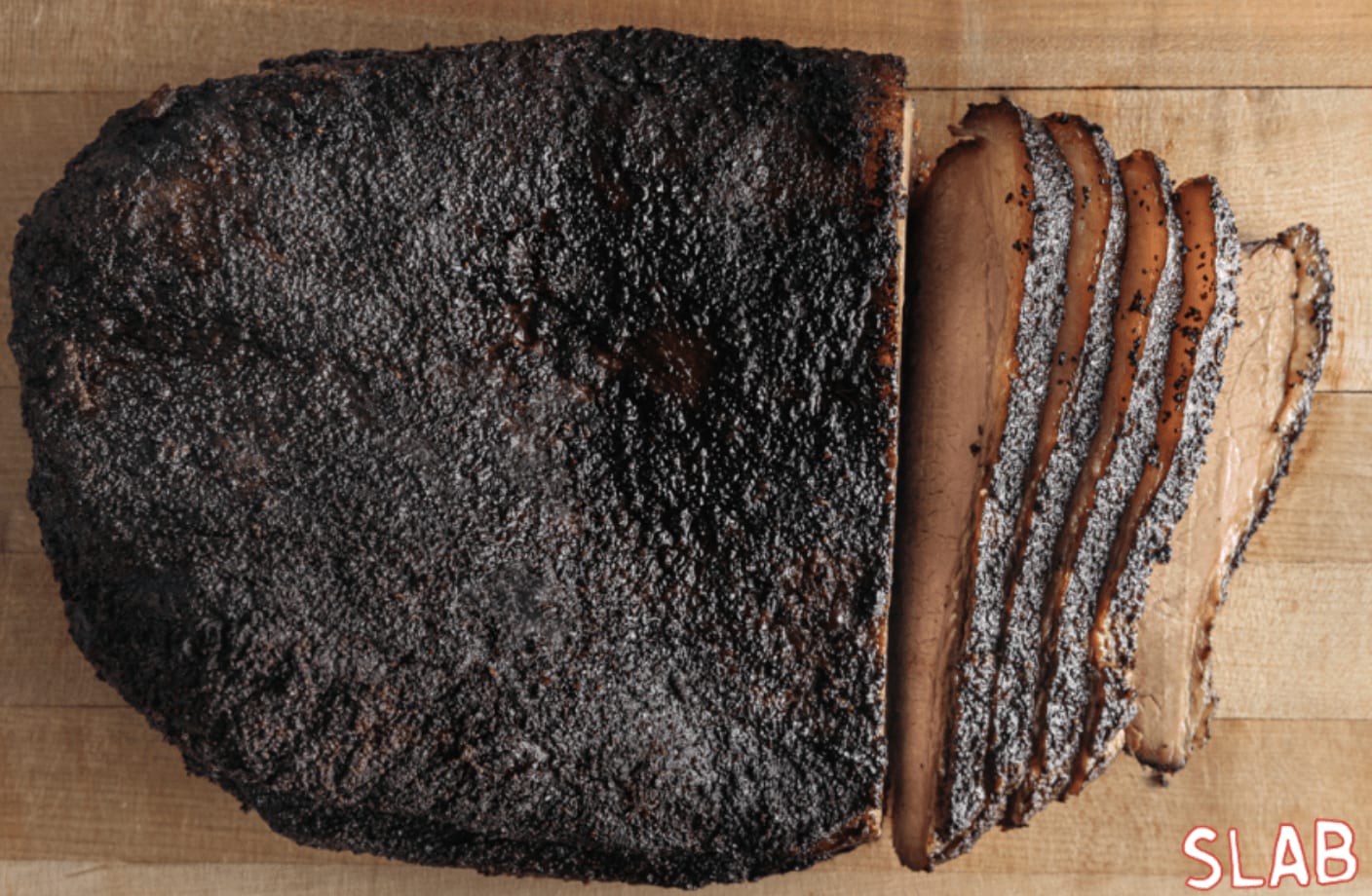 Why not leave your brisket in the more-than-capable hands of one of L.A.'s premier pitsmokers? Burt Bakman's West Third BBQ destination is fitting your table with a feast for four ($195) that includes half of a brisket; latkes with sour cream and applesauce; matzo ball ball soup; mixed-greens salad with tomatoes, red onions, pepitas and cucumbers in a red wine vinaigrette; and roasted green beans with honey, garlic and shallot.
Price: $195. Order with 24 hours' advance notice online, available for pickup November 28–December 5.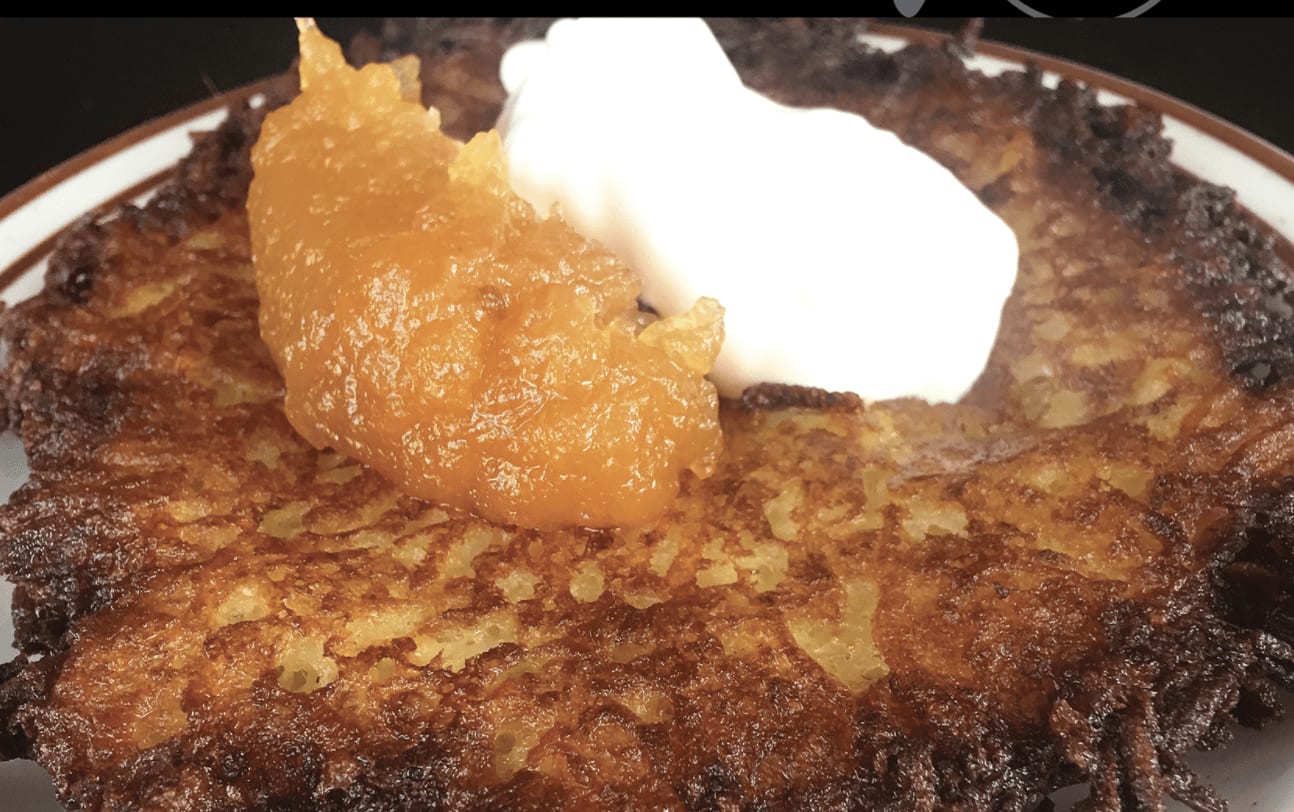 If you're still tired from cooking Thanksgiving for a crowd, order a fully pre-made artisanal Hanukkah dinner from Wexler's in Santa Monica, available for both pickup and delivery. In their Festival of Lights meal package ($295, serves 4 to 6), you'll find jidori chicken matzo ball soup, roasted heirloom carrots, crispy-creamy latkes, a farmer's market winter salad to start before the main course: a perfectly slow-braised beef brisket. For dessert, Wexler's is also including six individual chocolate babka.

Price: $295. Order online with 24 hours' advance notice; available for pickup November 28–December 5.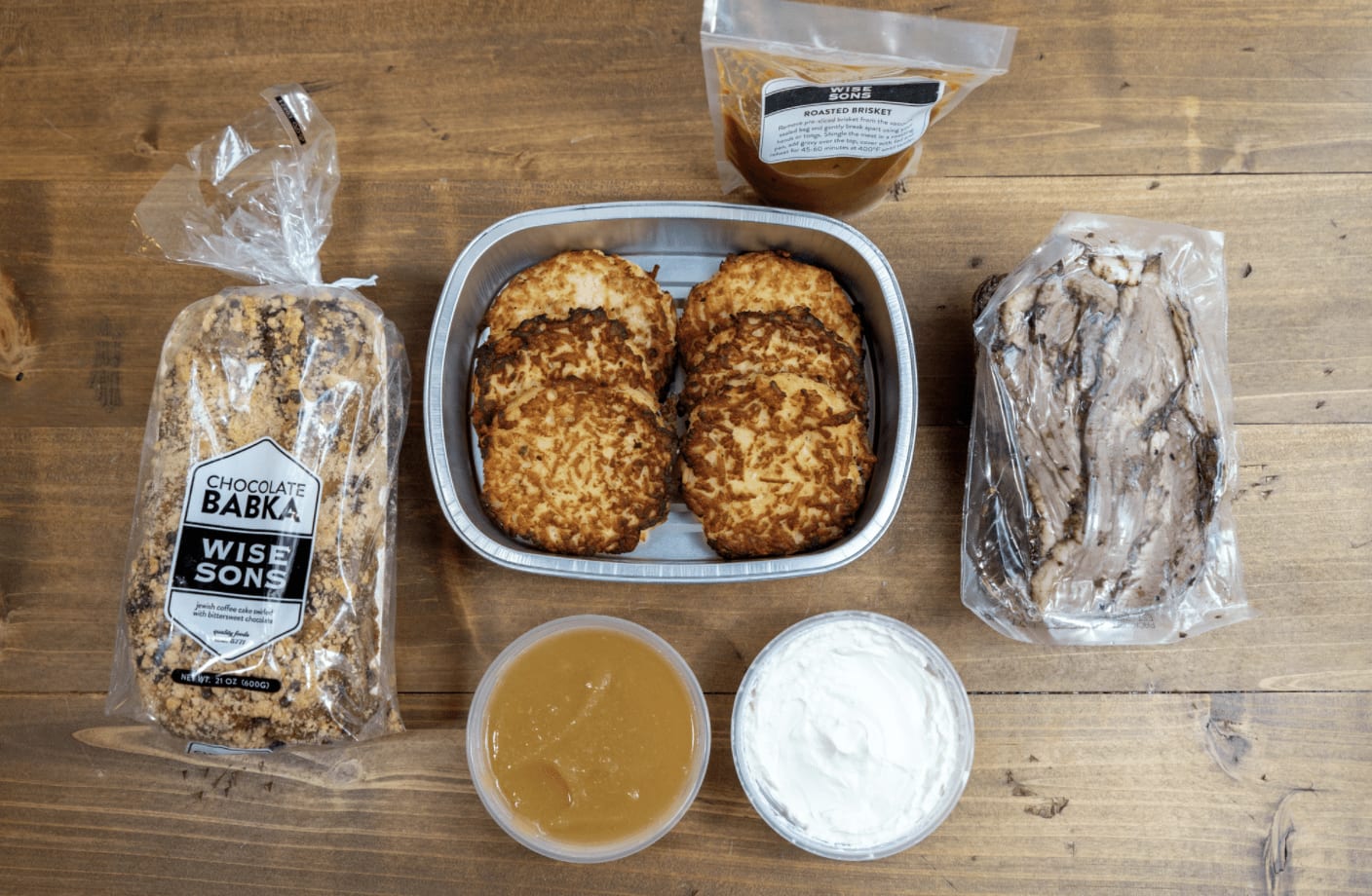 This newly opened Bay Area-based Jewish deli is offering a family-style Hanukkah roast chicken dinner for four ($90), which includes challah, a half dozen latkes and roasted winter vegetables. Just want the latkes? Wise Sons also has "latke bar" packages with Reuben ($60), smoked salmon ($54) and traditional sour cream and applesauce ($31), as well as six perfectly fluffy-on-the-inside, crispy-on-the-outside potato pancakes.
Price: Varies. Order online by 9am two days prior to pickup or delivery; available for pickup November 27–December 5.
---
Specials
Genghis Cohen: Gelt-y Pleasure Ice Cream
In a triple threat collaboration with Coolhaus and Valerie Confections, Fairfax's resident NYC Chinese restaurant has created a limited edition Hanukkah ice cream flavor inspired by the holiday's traditional gold-wrapped chocolate coins. Building on a dark chocolate ganache ice cream base, Genghis Cohen's Gelt-y Pleasure flavor features a shimmery gold swirl. Available in pints for pick-up or by the scoop for dine-in customers, it's the perfect way to stash a little Hanukkah in the back of your freezer.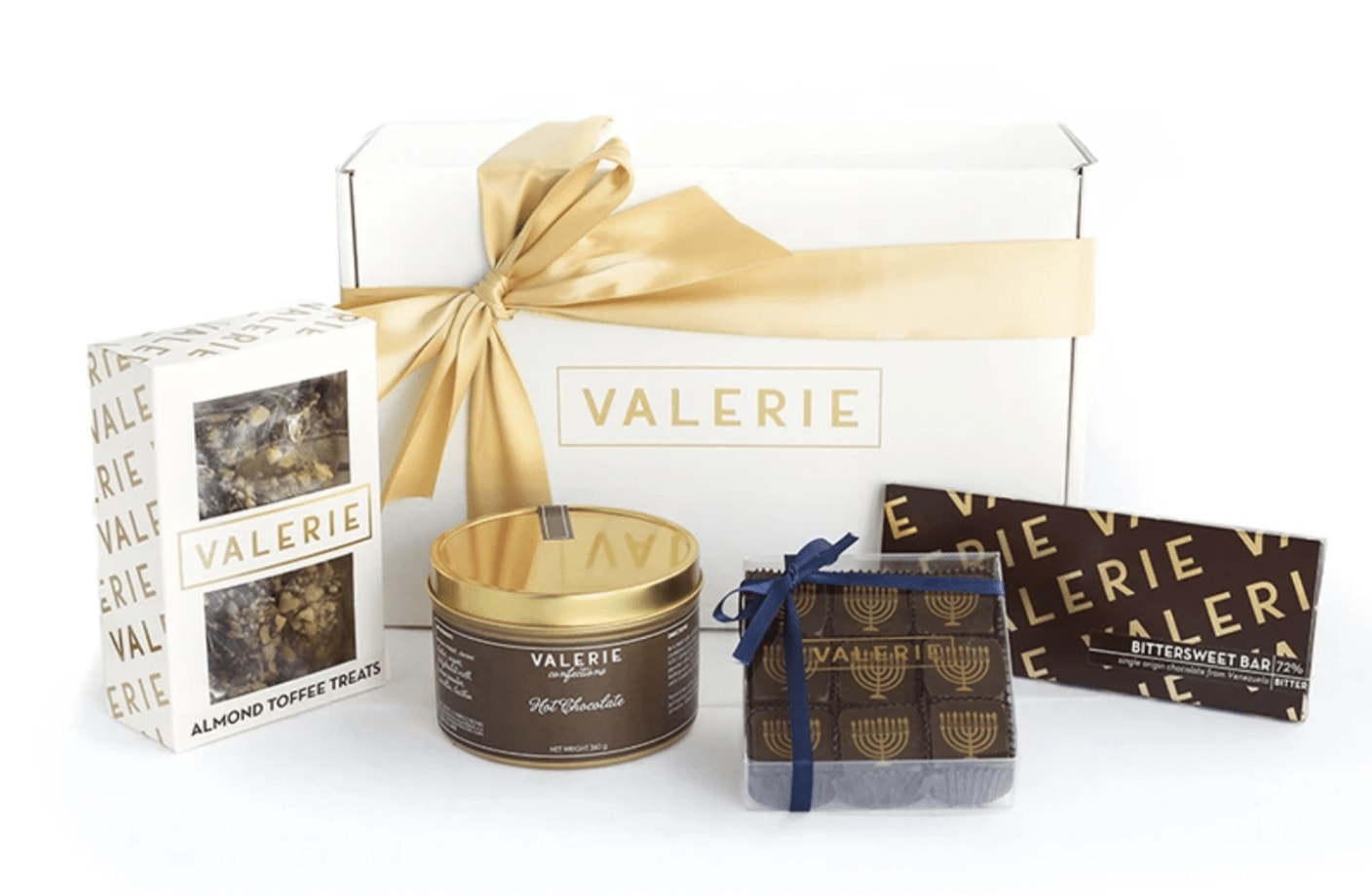 There's almost no occasion Valerie Confections won't have you prepared for, but if you're looking to pick up a special Hanukkah gift—or keep some festive sweets around for yourself—Valerie Gordon's chocolatier, bakery and café has you especially covered. Hot off the truffle line comes a new Hanukkah-perfect menorah gift box ($25), which dusts gold menorahs onto classic 61% bittersweet truffles. If you're looking for more of a splurge, the $85 gift set (pictured) includes the chocolate menorah box, almond toffee, a 72% bittersweet chocolate bar, and a golden tin of hot chocolate. Order online and pick up a few more nights' worth of presents while you're there.